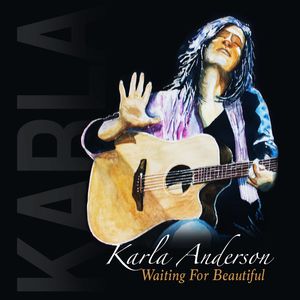 About "Waiting For Beautiful"
Waiting for beautiful was a record I made in 2004 that was never released due to music business BS. I thought I cut through the red tape enough in 2016 to release the record-but here it is, 2018, and it never happened. Why you ask? I don't have a good answer. I am as confused about it as anyone could be. A certain person has only played games with me all these years, and I thought we figured it out, but then he kept up the bullshit. Anyhow......
I will leave this hopeful letter (below) about the release of Waiting for Beautiful that I wrote in 2016, because I like the writing. I like my hopeful heart....i count on it to bring something good in 2019.
Waiting For Beautiful 2016
There is always a long road that leads to any one of our destinations.
Destinations in and of themselves are really, just part of the journey.
The road that has led to the release of "Waiting For Beautiful" has been a long one. Long in terms of time. But like everything…watching your kids grow, watching the grey hairs and the lines arrive…it never seems like a long time until you are taking inventory and looking back. Then you are amazed at how much time has actually passed, and all the things that have happened. At that point you can see the value, depth and breadth of that time.
Waiting For Beautiful took one and a half years to create. And has taken 11 years to release. And the time in between has been rich with experiences and other records and a musical journey that I have been blessed to embark upon.
11 Years hence, I am excited to finally release this record. And more than any other record, the word "release" is more significant this time around. This record has been sitting, for various reasons.  The reasons, at one time were very important. The reasons at this point are unimportant. What is important, is that the music is finally ready to "release". And after being held back, held in, ignored, forgotten and deemed hopeless, it's truly ready for "release".
I think all my life has been a lesson in learning to let go. I am a slow learner.  A slow writer. A late bloomer. A reluctant dragon. I have had things taken from me, I have given things away, I have squandered things. But finally, I am learning to release. To let go. To trust. To not expect. To think bigger, to open wider, to love deeper.
There is no expectation with the release of this record, except that whomever is meant to hear it, hears it. Embraces it. And we can share in the big picture. I have never been one to chase money for records. In fact…this record took my life savings at the time and then never made it past the starting gate. So I learned early on to fund my own endeavors and hope for the best. So far so good. If this record trickles out into the musical landscape in a vibrant way, then I will take the resources and make another record.  I leave it up to the ocean of people out there who have kept my musical life afloat.
Please stay in touch with me. That is all I ask. Send me a note. Throw me a line. Make a connection. That is actually what I love about music. That it starts a conversation we might never have had had we remained strangers.
If you are in the area…come to a show. And chat with me. Tell me a story. Let me give you a hug. And give me a hug. Let's close the space in this life. The cracks that we are all falling through. Me included.
I begin with releasing the title track "Waiting For Beautiful" In November 2015. And the full recording in 2016. You can either download the single through CD Baby, or you can get the track for free if you watch my Facebook page where I post special offers. I hope you enjoy the track, I hope you enjoy the record, and I welcome you on the journey.
I believe that this is the right time for it to make it's way into the world. However weird that seems.
Blessings,
Karla